Classic Cotton T-Shirt
Our custom printed Classic Cotton T-shirts are perfect for publicising your charity or event. They work great as charity fundraiser and race finisher t-shirts, as well as essential items for race marshals. They are good quality and will last the test of time. If you need something on a shoestring, then see our Budget version.
Minimum order on this product is just 5pcs with discounts starting at 10pcs. Standard leadtime is 1-2 weeks, but we'll always try and meet your race date if you have a deadline.
Colours:
Our cotton t-shirts are available in loads of colours and styles to match your budget. For bulk production we can even pantone match to your colour and add internal labels.
Size:
Our cotton t-shirts are available in a wide range of men's, women's sizes and youth sizes. Women's t-shirts tend to be a slimmer fit with capped sleeves. Youth sizes are generally unisex. Your size should be similar to your normal UK high street size. See our Size Guide for more details.
Custom Artwork:
"Thanks for printing our t-shirts at such late notice for our trip. Very flexible, great design skills :-)"★★★★★
Mark H.
REVIEWS.io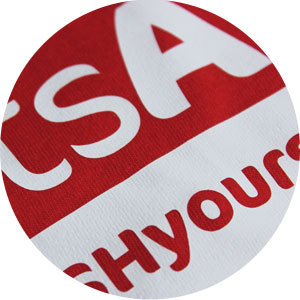 Classic Cotton T-shirt Features
We use a mixture of traditional screen printing and digital transfers to apply your custom logos to our Cotton T-shirts. Both methods produce great results. Screen printing is the most cost effective when the number of garments gets over a few hundred. Digital transfers can be more expensive, but they give us great levels of flexibility on the smaller runs.
Find out more