Cycling Bib Shorts
Combined with our custom Classic Cycling Jersey, our custom Cycling Bib Shorts make for a professional looking team. The flat stitched seat area uses a wicking cycling pad to keep the rider dry and comfortable on longer rides and sportives. The side and rear panels are digitally sublimation printed just like the pro-peloton uniforms, meaning there's no limits on the colours available.
Minimum order on this product is just 25pcs. They are bespoke made so standard leadtime is around 5 weeks, but we'll always try and meet your race date if you have a deadline.
Colours:
The seat area is available in a range of pre-dyed fabric to provide durability, whilst the rear and side panels are full colour digitally sublimation printed to present your brand or logos to the maximum.
Size:
Our bib shorts contain elastane to ensure a close body fit. Both men's and women's styles are available with gender specific seat pads.
Custom Artwork: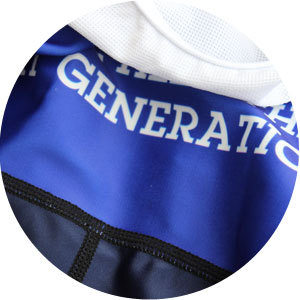 Cycling Bib Shorts Features
Comfort is key during a long day in the saddle, so our Bib Shorts use 'flat stitch' construct to minimise any irritation. Our race weight wicking fabric is digitally printed with your designs, they won't crack or fade and will look sharp for the life of the garment. Our Bib Shorts include all the features that you'll expect, gender specific seat pads, lightweight mesh bibs and hem grippers. A comfortable garment for a long sportive.
find out more
Need custom Cycle Jerseys for your next sportive?
Enquire now